Donate on Facebook and have a deeper impact!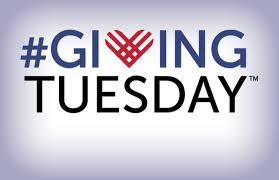 This year, on Tuesday, November 28, 2017, Tikkun Ha-Ir is participating in #GivingTuesday, a global day of giving that harnesses the collective power of individuals, communities and organizations to encourage philanthropy and to celebrate generosity worldwide
#GivingTuesday
is held annually on the Tuesday after Thanksgiving (in the US) and the widely recognized shopping events Black Friday and Cyber Monday to kick off the holiday giving season and inspire people to collaborate in improving their local communities and to give back in impactful ways to the charities and causes they support. You even have a chance to
double your gift when made through Facebook.
We invite you to join the movement and to help out your Milwaukee Community neighbors TOMORROW!
Some ideas include:
All gifts are appreciated! Some suggestions:
$54 = 3 gift bags for people living in shelters at Christmas
$100 = 50 adult & children's summer outfits through the Glean Machine
$250 = 2 weeks of fresh produce delivered to meal sites next summer and fall
$500 = 6 weeks of the Chop Shop which prepares fresh produce for easy usage at meal sites and food pantries
$1000 = 4 learning programs that create a Jewish context for our programs
Donate on our website or by mail: P.O. Box 090287, Milwaukee, WI 53209
Each winter, Tikkun Ha-Ir member congregations collect and distribute holiday gifts to families in homeless shelters or crisis programs. Please participate in this act of love and tzedakah to the many families in poverty. Your donation makes a real difference!
DATES:   Friday, November 17 -Sunday, December 17
Drop off locations:
Congregation Sinai
Congregation Emanu-El Bne Jeshurun
Congregation Shalom
Congregation Beth Israel Ner Tamid
Temple Menorah
Lake Park Synagogue
Anshe Lebowitz
Congregation Shir Hadash
It's Not To Late to Donate The Following Items including: 
Hats/scarves/gloves
Men's and Women's sweatshirts
Children's books and puzzels
New stuffed animals
Socks (men/women/children)
and more!
Thank you for your support!