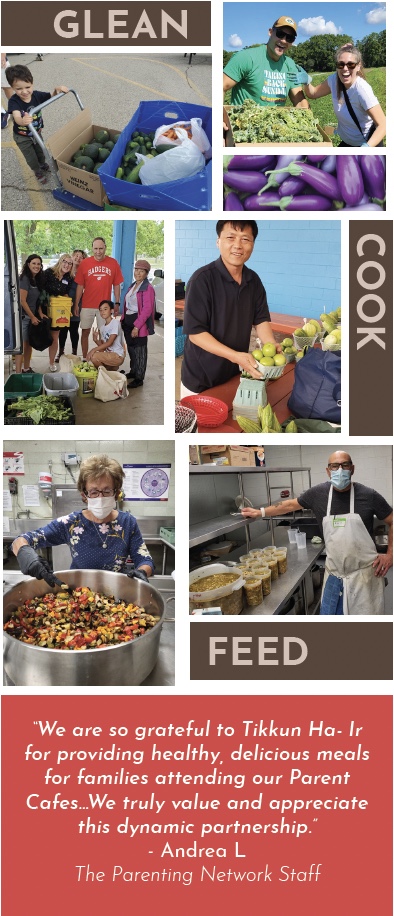 Veggie Chop Shop is Starting Again for 2023 on June 27th!
The THI Veggie Chop Shop is a community meal program that utilizes excess produce from area farmer's markets and groceries and turns it into healthy and delicious meals for the food insecure right here in Milwaukee.
If you are interested in partnering with us, either donating produce from your garden or farm, or volunteering with us gleaning, please click on the links below!
Cooking:
When: Each Tuesday in the Summer (times below)
Where: All People's Church 2600 N. 2nd Street Miwaukee, WI 53212
All People's Church does a food pantry four days a week, as well as shares their kitchen with St. Vicent De Paul, who makes hot meals for the community. Community Partnership and Food Justice are a big part of their mission, so it seems like a great fit for Tikkun Ha-Ir to make our meals there. 
The time in the kitchen is short, but we would love your help! We will be cooking 400 healthy meals for children and adults, also creating an opportunity to educate with offering recipes (and leftovers!) along with the meal.
Questions? Contact Brandice Kircher, THI Food Justice Director at brandice@thi-milwaukee.org
Gleaning is Starting Again in July at Brown Deer & Fondy Farmers Markets
Brown Deer Farmer's Market
9078 N Green Bay Rd
Brown Deer, WI 53209
Brown Deer Gleaning Every Wednesday 2-3 p.m. in the Summer
Fondy Farmers' Market
2200 W. Fond Du lac Ave.
Milwaukee, WI 53206
Fondy Farmers Market Every Sunday 12:30 – 2 p.m. in the Summer