Guest post by Donna Neubauer
On Sunday, February 5, 2017 ninety-one people attended the showing of Milwaukee 53206 at Congregation Sinai. The event was co-sponsored by Tikkun Ha-Ir and the Social Action Committee of Congregation Sinai.
The film, produced by MICAH made it premier at the Milwaukee Film Festival this past Spring. It   examines how decades of poverty, unemployment, and a lack of opportunity has contributed to the crisis of mass incarceration in this community, specifically in the zip code of 53206.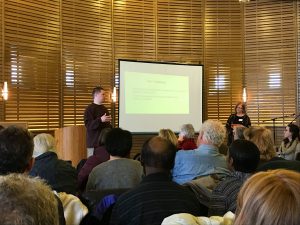 After viewing the film, Mark Rice, who is active in EX-Prisoners Organizing (EXPO) spoke about re-incarceration of former prisoners for "technical violations."  Mark further explained, "Former inmates can be sent back to prison because they borrowed money from someone, or missed a meeting with their parole officer because they couldn't get off of work.  They don't get a hearing, they just get put back in jail until the court gets to their case.  This could be from months to years."
This gathering gave our North Shore community an opportunity, during Q & A the realization that this isn't just a problem for zip code 53206, but affect the entire Milwaukee community.